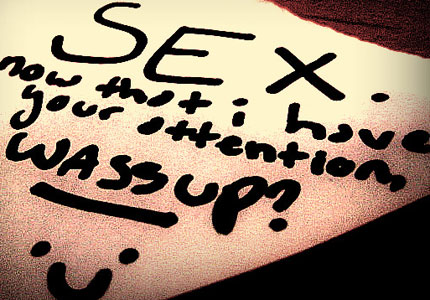 Okay, so you've come to the part where you need to write an email/message to entice the lovely ladies that could be your potential sex buddy. You've got your short list sorted and need some advice on getting your initial contact right, ensuring you get a response. We will show you how to do this, and provide you with a do's and don'ts' list of example emails to be your guide. Read this step carefully and wise up and you'll have no problems getting what you want out of this experience which is to cum hard and to cum often!
We have tried out all these examples on many sites trying to determine the best way to get a response from women who frequent these sites and are here to bestow upon you all the results of our hard work and get you laid my friend!
We will start by telling you what NOT to send– If you don't want "your a total Looser!" replies or none at all then we would suggest that you steer clear of any of the things listed in this don't column.

Bad examples of emails that wont get you a response, wont get you pussy and wont get you a sex buddy!

Don't number 1
Hello, my name is Max. I'm 26 from Tampa. I love sports, riding my jetski on the weekend and hanging with friends. I liked your profile, you look like a nice person. Maybe we could chat at some stage.
What's wrong here?
I'm asleep, and if I am, she def is! She's looking for sex people – not a relationship! She couldn't give two fucks what you do at the weekend unless its her!
Don't number 2
Hey sexy baby, you make me so horny, and your pictures make me wanna cum. You should send me one of your pussy nice and wet! I'd love to make you cum and I would do anything to have my head between your thighs. I'm into everything. Add me on chat and we'll talk all night!
Whats wrong here?
Your a total perv and possible scum bag who will proffer her pussy shot all over the not and at the very least show your mates, is what the recipient is thinking! What you don't realize is even though these women are here for sex, perverts are at the bottom of the list and probably don't get a whole lot of replies and no she won't send you a picture! She's reading "We'll talk all night" as "We'll talk all night or until you give me a picture of yourself too pull over and then I want you to talk dirty too me and when I cum I'll say thanks have a great night" No fucking chance buddy!

Don't number 3
Hello sweet lady – I'm the diamond in the rough. I'm here for sex just like you, but I won't fuck you, I'll make love to you like a women should be. I'll feed you strawberries dipped in champagne while your surrounded by candles and soft music and at the end you can fall asleep in my arms.
Whats wrong here??
The reason this is so wrong and you won't get the response your looking for is because its too nice and yep, very cheesy! The romancing the stone angle doesn't get the response you will be looking for. We know because we have tried it! Women on casual dating sites don't want to be made love to like your their romantic lover, they want you to take them to pound town, and this my friend is not going to make that happen.

How to get positive results from your potential sex buddy!

To get a 90% response rate from the right kind of email, you should really take into account what is written here. You want to get laid, you want to ultimately have a few friends with benefits relationships and here is your in – read over these examples and rather than copy and paste try and use these as a guides and personalize to suit each lucky lady!

Do number 1
I'm here not because I can't meet women, I'm here because the type of women I have been meeting just aren't right for me anymore. Going out with my mates for dinner and drinks at a bar or club, inevitably ended with me pulling some inebriated woman who fell into my bed, giving me a messy, quick root and falling asleep reeking of stale booze. No interesting words where ever exchanged and both of us where hard pressed to remember what happened. Sex is sex right? Wrong! I'm looking for a cool fun women who wants to have great sex whilst retaining all their faculties and actually being able to have a decent conversation. If this seems like something you would be interested in, then hit me up and lets see if we have that in common.
Do number 2
A decent women that enjoys sex without commitments is hard to find, but here you are. You profile stood out because your funny. cute and I'm partial to women with big smiles and dark hair. I assume your probably getting messages left right and center, because there aren't many legit women on these sites looking for a sexy buddy. Your basically in a league of your own. I'm actually serious and no I will not ply you with pathetic one liners that every second guy is trying to lure you with. I'll just say I think your someone I could connect with and leave the ball in your court!
Do number 3
You caught my eye, I like your style. I too have a lot to offer in a non pervy creepy way – but I'll let you be the judge of that. If you think you'd like to find out more reply to this and lets talk.
What made these emails so special?
They where creative, funny and original. Making your messages short and to the point with no bullshit will catch your potential sex buddies attention and intrigue her. By using these sorts of emails you will ensure you don't fall to the wayside like so many guys who aren't using this 7 step guide to find sexy women looking to fuck your brains out!
Basically you want your message to hit the mark – get a response and go from there, and by there I mean you getting lots of hot casual sex. Boring emails, pervy tasteless emails and lovey dovey ones will not get you the girl! Sending out generic emails to a lot of women will not get you sex. You need to personalize each message aimed at that particular women so they know there are not just another number on the list. Women can tell if you have sent them a droid email and will not reply. So to avoid this happening to you, read their profile so you can use it to your advantage. Be creative, funny and always be original!
All of the "DO" emails bellow have been tested and proven to work on the following sites
Step 7 – Now that you've got her, Friends with Benefits: Top 10 Relationship Rules
»