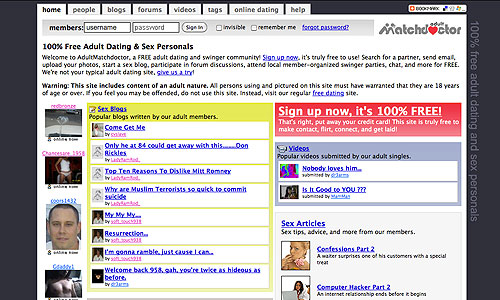 Adultmatchdoctor.com describes itself as a place to go for Adult Dating, and also claims to be a Swinger Community with over 20 million active members, which is an absolute joke! There is no-where near that number because most of the members are fakes set up by the admin to make it look like this adult dating site actually has something worth joining for! I came here because I was looking for a casual dating site where I could find some decent women looking to get into a sex buddy relationship. I shouldn't have bothered.
I signed up to the free membership area, planning to upgrade to a paying member so I could use all the features and because I thought this site would help me hook up with some of the lovely ladies in the profile pictures. However, when I did fork out the set fee and checked out the additional features like the sex blog, and forum discussions with posts from people with pretty undesirable profile pics, then found out about the possibility of attending an organized swinger party in my area, I wasn't sure I was in the right place!
Despite the feeling of foreboding that hung over me, I set up my profile, added a few pics of my own, and settled in for a night of sorting through the massive amount of female profiles they have listed with a lot of potential women, or so I thought. The deeper I got, the quicker I realized that there wasn't a lot of information about each girl I was interested in. I hoped it was just because this is the way the site was run, and proceeded to send them emails letting them know I was interested.
What I discovered after a few weeks of time wasting was that most of the profiles had either expired and adult match doctor was pretending that they were active, where fakes, or were home to scammers that had set up profiles in order to try and swindle me for money to watch webcams, and escorts trying to woo idiots into meeting them, and then hitting them with a bill for services rendered. The only active members where guys like me that had basically been sucker punched in the gonads and rolled for our money, and the swamp creatures that where trying to get someone to fuck them. (RUN FORREST RUN!)
I did not get one hookup, or even one reply from any normal women! So basically, I got more than nothing out of joining. Thanks Adult match doctor! I would like to point out for credibilities sake that I am a member of many reputable casual dating websites, and have had plenty of success doing the exact same thing I did on this site. I have actually pretty much tried out all of them, (casual dating sites that is,) both good and bad so I know what I am talking about.
I don't even challenge you to give it a go and see if you can prove me wrong, because unless you want an older women, or a fat ugly one, or if your super lucky a fat, old, ugly one, then this isn't the right move for you. Its hat's off to you if that's your thing and you wanna go down on the grey bush whilst parting gigantic thighs that feel like rice bags stuffed in sausage casing, (some guys like that sort of sensation) but for the rest of us, that want someone that doesn't eat a packet of biscuits straight after a dinner for six piled on one huge plate that would serve as a platter in a buffet, it's slim pickings my friend!
Adult Match Doctor wont get you hooked up, take it from me – its not going to happen here for you unless as previously mentioned, your into big old ladies. I'm not! You will not get laid, and you most certainly wont find a sex buddy – well not the one you where looking to find. I'm sure one of the 'stunners' on this site would be more than happy to accommodate some decent guy like yourself. I don't recommend you do that though for safety reasons!