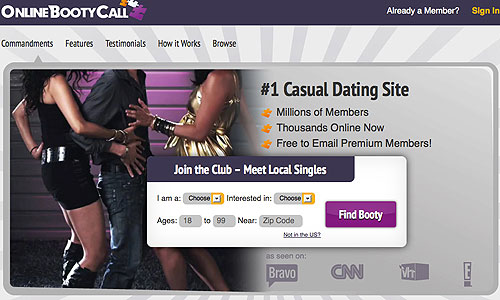 The Tagline for Online Booty Call is; #1 casual dating site, and it lured me in like a lamb to the slaughter. Sites like Online Booty Call prey on unsuspecting guys like me who are too trusting and yes, thinking with the wrong head.
The 'create a free' profile option is a given on most sites, and the hook is getting to view the large amount of decent looking women that have profiles, as I mentally create scenarios about what I would do if I got them into a dimly lit room with no clothes on. So the fact that I hit 'become a premium member' is basically out of my hands.
With the millions of members they say they have, you'd think I would have found at least one good lead, especially since I spent hours searching through the profiles and sent out a decent number of messages to possible candidates. I didn't! Not even close! I came here to find a sex buddy but didn't meet one decent girl to hook up with. Although this site seems a lot more professional than most other below average casual dating sites, one thing this site does have in common with them is that it is full of shit!
I swear this website didn't do any better at helping me find a women than I could have just done in some seedy over 40's bar(Where not even talking cougars, (I should be so lucky!)
It didn't do better than if I turned up at a normal bar and went for the plump overweight friend of the girl that I was originally checking out.
It didn't do better than the spastically drunk cutie that's now screaming obscenities at the creepy barmen because he told her she'd had enough, and when she said she hadn't, and wanted another, he said he also could see her nice pussy hanging below the line of her dress. Even though we all know that it could be a crazy, fun ride, (and she had been making drunk eyes at me all night,) I have flat mates, so I don't want that going back to my house to fall into pot plants and then scream the house down while I try to muffle her face with a pillow as I pound her from behind! Its pretty fun a fair few times, but I just wanted a nice straight girl to play with!
So why can't I find any action on this site when I have had success on many other reputable sites doing the exact same thing I did here? It has lots of similar features such as private messaging, video chat and an area where you can map out your specs to make sure you hook up with someone your type, and even a booty call list where you can add to the list of babes you have made physical contact with and want too again.(But this list will in fact remain eerily empty) as well as the usual profile scenario with pics and information on the bangable babes your ready to meet.
I'll tell you why, because most of the profiles are either;
* Inactive – (but most probably originally fake in the first place) which means they are sitting there with no actual movement happening on the profile and have been for months!(but the website still displays there pics like a trophy claiming that they have all these members!)
* Fakes – Escorts and Porn Stars posing as normal girls and tricking unsuspecting men into paying.
* Undesirable women – These are ladies who you wouldn't even consider messaging let alone inserting the best part of your body into.