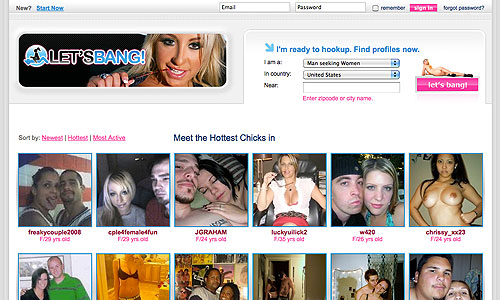 Lets Bang doesn't actually let you bang, there is not, nor will there ever be any banging going on. The only bang you'll get is from Ricky Martin when 'She Bangs! She Bangs!' is played at high volume as the backing track to the seedy display on webcam where a really fucking average looking middle aged women with hail damage and purple stretch marks gives you a dildo show. And you had to pay extra for that! Lets Bang says they are the fastest growing online personals website with thousands of hot new members daily – don't believe them!
The 100% Free Lifetime membership is great unless you feel you need to upgrade to take advantage of any features.
There is a video chat, you can create a friends list of the women you want to have fun with, and with explicit pics from virtual hotties in plenty of the profile pics to feast your eyes on, you think that every penny you spent is so worth this, especially if you end up bedding that or something like it! There is even a hotness meter that lets other 'lets not bang cause we don't exist' members in on how much you use this rip off site.
Moreover, when someone adds you to their friends list, it lets you view their discreet profile pics. Discreet? She's got her pussy hanging out in her profile pic, what the hell is in this discreet folder – I'm a bit scared! However, don't freak out because these aren't really the women who frequent this site with their hot pussies looking for you to fuck them like they need to be fucked, its admin teasing you so you give over money, and then they'll bend you over and jam a whole lot of hot air up your keester. These pictures have been stolen or bought from adult and porn sites to get you to sign up, and then even though you still get to look at all the sex pics of apparent members, the only real members here are attached to decidedly poorer standards of pussy with a little extra sag going on and a fair bit more hair.
This site is riddled with cheap imitations, fake profiles and none of the membership promises of you actually getting to hook up. Lets Bang isn't going to help you meet decent women looking for sex, nor will you come across one who wants to be your sexy buddy.
This bogus site has disaster for you written all over it, You will be left with nothing to actually show for spending weeks sending out emails to girls who don't exist, I know because it happened to me! The snaky fakes will mostly reply, but it didn't take me long to figure out what was happening thanks to the seven step guide, and the time spent trying to bypass the only actual members that I had no intention of contacting, let alone fucking was stupid!
The lets bang team, who are getting drunk and buying hookers to suck their tiny wangs on the profits of this bastard site, claim they go to extreme measure to prevent internet scammers from joining their site! They fail to tell you that it's actually them behind the whole fucking thing!