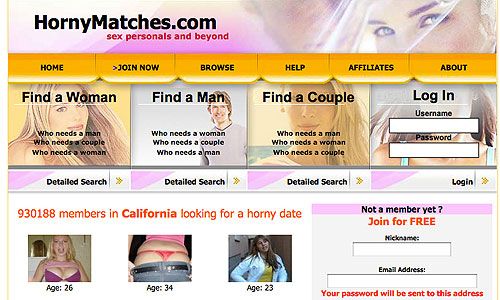 Horny Matches knows that the guys that frequent these sites, looking for casual hook ups and sex buddies are super horny! So why not call their website Horny Matches! When guys search Google with the keyword 'horny' (AND WE ALL KNOW THEY WILL) this site pops up – Well Played Horny Matches, Well played! Sadly though, that's about all they where good at, naming a site to get optimum search results, that and taking my money!
When I joined this site, I expected some sort of service for the money I gave them, but apart from providing a space to fill out a profile and letting me look at some pictures of girls, (which I can look at for free all over the net) there was nothing much to do once I realized that the messages I sent out to the women I was interested in wouldn't get replies! The reason isn't because I don't know how to hookup online (I do, I have had great success on the better sites) it was because the recipients didn't exist, that and I was getting jacked around by the professionals!
Horny Matches knows guys are horny, but there is nothing that this website can do about it!
Pretending to come up with a solution to my craving need to have casual sex with horny singles looking to hook up by giving me a site that doesn't work, isn't a solution!
Horny Matches is apparently a place to meet new friends and sex partners, and claims that they are a sex personals and beyond website. They also say that you have been waiting for a chance like this! (If by chance they mean the chance to help me get no sex, then their right.) 'Get away from your everyday life' is one of their many poorly thought out one liners to entice possible members, but if that where true, they would have helped me get sex. I can get no sex all by myself, I don't need their help to not get any! I'm not the only one! Horny Matches isn't what anyone would describe as a site that has successfully helped them hook-up, unless of course your into women just because they are female. The standards of women on this site are pretty horrific if you exclude the hookers, porn stars, and other fake profiles, and then you have to discount the pictures brought form a third party to make you think that there are some decent possibilities on this site.
I joined this website while I was drunk obviously, because I can't believe I could have been so stupid as to have not noticed that the actual home page seems to have been written in broken English, probably by some overseas company based in Nigeria and there cleaning out my bank account as you read this. Before signing up, I should not have been dazzled by the pics I saw and the free membership part and read the rest of the first page, if I had, I would have realized that this poorly constructed site, with content that was written by some random unauthorized writer that the 'Horny Matches Board' hired for $2 an article and wouldn't be able to explain the difference between getting it on with a sexy women and making love to your wife, was a complete scam! And I would definitely have noticed that they skirt around how many members they actually house preferring to hint that their might be a lot by saying they have many members.
Horny Matches is a second rate casual dating site that doesn't know weather it's trying to get you hooked up (but won't) or help you fall in love (nope they can't do that either) You wont find a sex buddy here, because most of the members are just as twisted up as the writer and owner, and are scamming people all over the world.