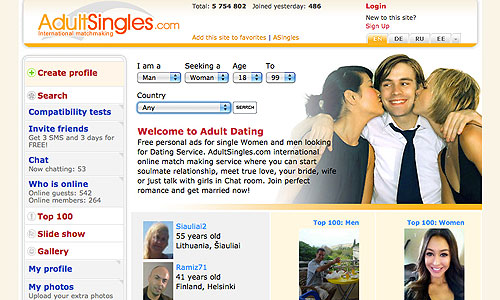 The best thing about this site is it's free sign up, that and the fact that you don't have to create a profile to search the online listings, but don't let that sucker you in. The majority of the active/real women on this site are 47 year olds from Estonia!
Despite claiming over 5 million members, only 939 where online when I looked, which makes you wonder if its worth signing up to this struggling site. Its either going under, or the stats have been jacked up to make it look like they have shit going on. 'You must just be here on a slow night!'
The features for this part adult dating site, part romantic relationship site includes being able to send and receive emails, different search tools to help you find specific types of members, and gives you free virtual gifts to send. You can also purchase credits to use additional features that include more virtual gifts and other profile enhancements.
So I signed up to the free section, with no regard to any of the warning signs that were slapping me in the face, and still blissfully unaware that this place sucks I created my profile, and decided to see what Adult Singles had to offer. I punched in I was looking for a women in the United States as an occasional lover between the ages of 22-99 to see what would happen. The first three women included 2 dogs, 25 and 52 respectively, and the next a 38 year old who looked 58. Then wow, three very real possibilities in a row. I clicked on the first girl and it then asks me to sign up to a membership to view her. So stupid me did sign up, but only for the trial membership. (which is nice of them to have) but does pose the question which is; 'if its a scam wouldn't they just make it full membership or bust?' This made me realize that at least the creators of this site do have some moral core because they know it's shit, they know you wont get laid by anyone even remotely decent, and they know that after you hand over your $5 and work out they have nothing, that you wont be upgrading. (There happy to get whatever minimal money they can out of you before you never return again.)
During these hours of discovering I was wasting my time, I tried out the chat rooms and I found they where basically ghost towns that had a few bearded men and seedy old ladies using it to make contact! I sent out messages to as many cuties as I could and I received no real responses. These profiles are fake, or else they lay dormant because they haven't been used since the first few weeks of activation 5 years ago.
There is nothing going on on this site!
I did get 2 replies eventually, that I decided where from escorts because they where only interested in what they could do for me and wanted to hook up as soon as I said hi without chatting to get to know one another. Feeling despondent and ripped off, I even started to doubt this sites actual 'pig' members where real, so I sent out a test email to make sure, but I did get a reply, almost immediately saying 'lets meet up!' I quickly deactivated my account and moved onto bigger and better things on sites that actually get me hooked up and into a friends with Benefits relationship with decent girls.