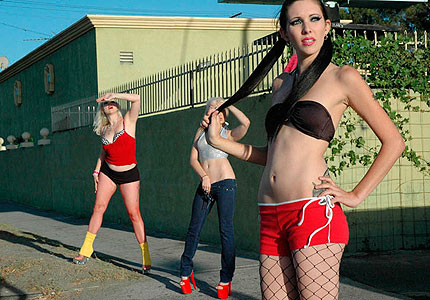 If you wanted an escort, you'd hire one right?
Getting done over by an escort on a sex buddy site while your perusing potential ladies, with the ultimate goal of getting into a Friends with Benefits relationship can and will happen if you don't have your wits about you!
Escorts and Porn Stars are just that, and will trick you into thinking they are just regular horny girls, but demand payment when you get to their accommodation or yours, or else after the deed is done. Escorts and Porn Stars are highly likely to be working sex buddy/friends with benefits sites to make more money, and know many men frequent these sites – making easy targets out of unsuspecting and ill informed guys on the prowl for a friend with benefits. To make sure you avoid this type of profile and the shady women behind them, you need to be aware of a few things they might say and display to entice you, that will help your horny self catch them out.

What To Look Out For
1) She is to into you: If they (The shady ones) are really into what you want out of the potential hook up, and don't reciprocate by telling you they want you to go down on them because it really turns them on, its probably an escort that may have dabbled in a few low budget movies. Also the 'lets fuck right now' call is a hooker for sure. A red flag would be that they don't want to sound you out over a few different chats and they want to get freaky as soon as you show interest and suggest meeting up immediately.
2) Limited Profile: Minimal contact info on a profile suggests that its probably a fake. If they say things about you that you know isn't true, its a fake profile run by you guessed it an escort/porn star. It's fake if the only info included says; LIKES: Giving guys head and making them cum down my throat!
Another thing to look out for is perfect 10's, if they seem too good to be true, they probably are. There are no perfect women looking for casual sex on any of these sites. Your dreaming if you think you've found one, and be prepared to be taken for as much money as they can get out of you! (This is what we like to call an escort.)
3) Perfect 10s: Any profile where the chick is model hot and is doing something explicit in her pics – IS A FAKE! 10/10 times its a profile run by an escort, porn star, or the site themselves geared at taking your money. If you come across a profile where the woman is getting plowed by a black stallion, do yourself a favor and run the other way! You have zero chance of creating a friends with benefits relationship with that girl.



4) Eager to talk but not to meet The majority of these profiles are made and run by the site owners. They are a tool to get you to upgrade your account and spend your money on their additional services. Fake profiles made by dating sites and individuals to trick guys are trying to make a fool of you! Not only taking your money for a messed up service that isn't going to get you laid, they are attempting to woo you with women you think want to bang. They use pics of girls they assume 100's of guys would be chasing – but its working! some people (GUYS) think they are gods gift, and could actually have a chance, but she's not even real, so the joke is on them. If your dream girl is quick to reply to all your emails, and eager to chat on IM but not actually meet in person there is a good chance its fake!
The good news, not all beautiful women are fakes! There are plenty of decent hotties in the 5-7 range to go around if you use the proper sex buddy site.
Only Join These Proven Sex Buddy Sites;
#1 Socialsex
#2 XXXConnect
#3 Adultfriendfinder
#4 Eroticads
These sites are recommended by us because we have tried them all (Top Sex Buddy Sites: Read Reviews), and have had success at finding sex buddies or friends with benefits on these sites, and we vouch for then because they have less fake profiles because the admin on these sites are diligent in removing and deactivating them when complaints come in. However there are still some floating around and this is your warning to be on the lookout for them.
Step 5 – Spotting Women that are seeking a friend with benefits – not a boyfriend.
»