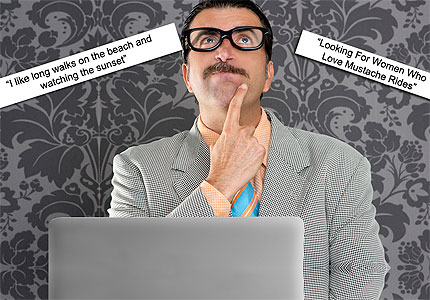 Writing a profile that rocks is the key to hooking up with a sex buddy. They (the girls trolling your profile) haven't met you in person and can only see the pics you have supplied and bio you filled out. That is not a lot to go on, so it has to make an impact. If you expect to get a lot of messages, virtual winks and flirts, you need to set up an awesome profile.
If your new to this we can help, or maybe the profile you have set up isn't getting any action so you have come here because you need to know how your more than likely 'boring old profile' can standout from the crowd (and there is a crowd), and get you into a friends with benefits relationship.

There are tricks to every trade, and setting up a standout profile to find a sex buddy, is no different. What you basically need to do is market yourself. That's right, you are the delicious product and there are plenty of free samples to go around. But, if you aren't feeling that delicious, you may need to embellish the ingredients. Like maybe your a cake made of low fat ingredients that are really good for you, and there is nothing wrong with that, but instead of just saying that is what you are a plain old boring butter cake with no frosting, there's no harm in pretending, nay purporting that you are in fact a Betty Crocker triple chocolate cake with full fat ingredients and sport frosting that is so yummy that any girl would want to take a bite! Your not exactly lying, your still a cake, but a profile can make you anything you want to be and more. However if you say your something, stick to it. When you create a 'this is who I am' profile that isn't exactly who you are to get into a women's pants, you need to run with it like an actor given a role. Exude that person, be that person, talk like that person.
For example there is no point saying in your profile that your into tattoos and piercings and then turn up all squeaky clean and be left giving excuses such as;
"Oh I don't actually have any, I just like them on other people!" to the biker babe who expects to get some sort of cunnilingus, infiltrated by the metal ball you said you had on your tongue. She'll send you packing, or else insist you head straight to the piercing parlor to get it sorted so she can get what she ordered.
Presenting yourself is very important! Do NOT say I am here for the romance, please do not take this sad unsexed route. Girls come here to be screwed, not romanced, there is no wining and dinning here, keep shit real, give them what they want, but don't say I am here to fuck you or be a pervert either, that is a huge turn off to all girls even the ones that are looking for sex buddies & friends with benefits! We are all adults. They know, that you know why they are here – seedy cock shots and 'Oh Baby" talk that ends with you saying "I'm going to cock slap you in the face' is not going to get the girl, even if she wants it, you will not get to do it, because you said it! Better to say things that skirt around why you are all here. They don't want it in their faces just yet, you need to build up to that, by being cute, interesting and confident.
Your profile should be geared at finding a sex buddy or friend with benefits and needs a hook. The hook is your fabulous, confident personality, among many other things of course, but they don't know that yet so you have to market your personality to the full extent to get past the viewing stage and into a full blown friends with benefits relationship! You need women to think 'who wouldn't want to be your sex buddy.' Your confidence (not cocky though) is what will attract the women to you. Please do not be overly confident or a pervert, moreover classless assholes will not get the girl!
Confidence is the key weather your going for a 'this is really me' profile or filling it with utter but brilliant bullshit, your confidence is a powerful marketing tool. But make sure you stick to the plan stan, (which is if you say it act on it)or you'll get no pussy. If you think you might falter then stick to being you, however still sell yourself, what's good about you?
Pointing out that your here to meet a friend with benefits is a good start along with the fact that you are not a Perv. You should list fun interesting stuff that imply's you have a life other than trying to tune chicks online in a hopes to get them into a sex buddy relationship. Mentioning their pleasure is just as important as your own, and what it is you like about women, the softness of their skin, the smell of their hair but don't make it creepy, and example might include:

"I'm here for some fun and to meet some interesting women who would like to hang out. We are all here to get it on, but I'd like to point out that I love women especially ones with interesting things to say in and out of the bedroom, and if you decide you want to have some fun with me, you'll not only get great sex that includes us both sharing some mutual pleasure you will get witty interesting conversations and a guy who actually cares if you have had a bad day. I don't want to pump you and dump you – I want like minded people that want to be friends with benefits. You wont get me making groady comments and making you feel uncomfortable, you will get relaxed, enjoyable sex with a bit of normalcy on the side." You could then go on to describe that you want the sex, but attached to a personality – "'I'm not looking for a giggling Barbie, I need you to have a brain that you think about things with. I don't want a sex addict that only wants me to make her cum, I want someone who has something to say."

Do's and Don'ts to help your profile be the best it can be.
Do's
* Speak maturely about what your looking for, your desires, wants and needs are important without be vulgar.
* Tell the women who view your profile what you would be willing to offer them.
* Exude confidence
* Mention other interests so its not such a cockfest.
* Become the man they are looking for.
* Include a pic of yourself, even if you don't think your that hot, at least they can see what they are getting themselves in for, you might not be the hottest guy out there but girls like to put a face to a name and yes women will fuck you – normal guys do get pussy!
Don'ts
* Speak negatively about yourself!
* Be a total perv (even if your thinking it, lock that shit down)
* Be totally you! Here is your time to shine, don't flat out lie about stuff, but build a image of a better you
* Supply detailed info about shit no-one cares about, keep it simple, list some great stuff , leave it there to entice not bore!
* Post dick photos or any dirty shit till its asked for.
* Talk dirty without her initiating it – some girls get offended if you start out all cockeyed.
Step 3 – Foolproof Strategy Use Multiple Sex Buddy Sites
»